Charism, Mission and Values
Common Vision
What is charism? It is the gift of a shared sacred story and a common vision of God and the world.
—Lorna Cooney, SNJM
Gratitude
The Holy Names charism empowers people to develop and share their gifts as Jesus did: person to person, heart to heart, and with gratitude.
Liberation
Our ministry, whatever it is, has to be focused on the
liberation
of the person in some way that is transforming.
—Kathleen Griffin, SNJM
Nothing is Impossible
We serve as [Jesus and Mary] served, with the spirit in our hearts that
nothing is impossible with God
.
—Celine Steinberger, SNJM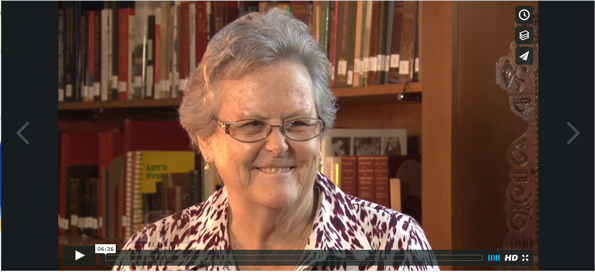 Video: Charism and
the SNJM
Constitutions. The
"why" of Holy Names ministries.
1. Booklets & Documents

Each Holy Names ministry's values and mission flow from the SNJM charism. These materials, in addition to the featured items shown above, explain how.
What Makes an SNJM school SNJM? 8-page booklet outlines the characteristics that make the Holy Names schools distinctive. Useful information for non-school ministries, too. Printable on 11×17 sheets of paper. Read online or download
Blessed Marie Rose Introduction to the foundress of the Sisters of the Holy Names of Jesus and Mary and her legacy. 4 half-size pages, printable front/back on one 8.5×11 sheet of paper. View/download
Documents
2. In Their Own Words: Charism Videos

In their own words: Video stories from the SNJM community. Sisters and lay persons from the U.S.-Ontario Province describe how the charism shapes their ministries… and lives. Running times: 3-7 minutes.
History
Fire upon the Earth: SNJM legacy. 9 minutes
Photos with music
Give your Heart Away: What if you have life's basics, and then some? You might be motivated to share what you have. Music and photo montage of Holy Names Sisters with students and friends. 4 minutes