Meet Maureen O'Brien, Associate
Yakima, WA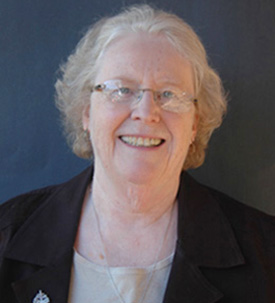 Maureen's life has always been connected to the culture and charism of the Sisters of the Holy Names. Her mother and 16 family members attended SNJM schools starting in 1909. Maureen graduated from St. Patrick's and Holy Names Academy in Seattle.
While teaching in the Washington State prison system, Maureen was active in the SNJM Shared Mission program, serving in Glenallen, AK and Wapato, WA. During a visit to Jonestown, MS, Sisters Rose Monica Rabdau and Mildred Hein suggested she become an Associate.
Until a few years ago, Maureen took an active leadership role with the Associates in the Yakima area. "It has been a wonderful adventure to work with the Associates and their families here in the valley and to meet SNJMs throughout the Congregation," she says. She feels her life has been blessed by praying and working with the Holy Names Sisters and Associates.