Meet Maria Faina, SNJM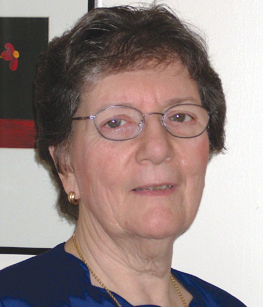 My first real memory of Sisters—or religious women—goes back to the beginning of my life when my parents enrolled me in a Confraternity of Christian Doctrine class in preparation for my First Holy Communion at St. Gabriel's in Washington, D.C.
I attended public school for several years, before my parents transferred me to St. Gabriel's School where I was taught by Sisters of the Holy Names of Jesus and Mary. I then went on to high school and a year of junior college where I was taught by two other congregations of women religious.
"Each Sister who taught me made an impression on me, and I admired each one of them for different reasons. These women, in full habits, were not afraid to show their human and compassionate side – they were real and so great to be around."
I remember all of the Sisters who taught me with great fondness, but I was drawn back to the Sisters of the Holy Names of Jesus and Mary over and over again. One of the things that made the SNJM community stand out for me was my eighth grade teacher, Sister Josetta Maria Preller. She was a great teacher. The way she treated all of her students made it clear that she had a real connection with us. My girlfriend and I continued to visit Sister Josetta—even when we were in high school and junior college.
Sister Josetta was the greatest influence on my life and my decision to enter the community. If it were not for her, I am not sure where my life would have taken me. I owe my religious vocation to her. During one of my visits with Sister Josetta during junior college, she was the first person to ask me the all-important question. "Have you ever thought of becoming a Sister?"
Up to that point I had not, but after that I definitely began to discern on whether or not God was calling me to a religious vocation. My mother did not take to the idea of my vocation at all, and this was difficult. However, once she met the Sisters that I would be working with on my first mission and visited the convent and school, she became resigned.
"I believe that the preparation and training I received as a Sister of the Holy Names enables me to provide the leadership needed to bring others closer to God no matter what their Faith beliefs."
I have worked with many people in my 53 years as a Sister of the Holy Names – as a teacher, as a principal, as an associate administrator in a parish and most recently in a public charter school system in the inner city. As a result, I have been able to touch the lives of adults and children of different faiths, beliefs, and cultural experiences on many different levels.
In some cases, the parents in the schools I worked in had never met a woman religious before. They sought a curriculum steeped in values, character education and faith experiences. And, they trusted us to help them achieve it for their children
We may never know what influence we have had on others; however, the charism of the Sisters of the Holy Names is so embedded in the lives of all of our Sisters that all the people we come in contact with appreciate the gift of our vocation and how it is shared with them.