Meet Anna Keim, SNJM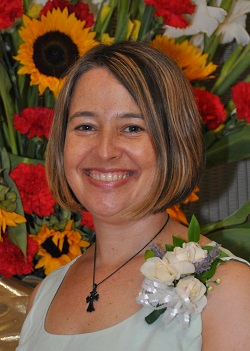 I attended Eastern Washington University in Spokane, WA. There was a wonderful campus minister there; she was an ex-Benedictine, as was her husband. At that time, I started thinking about religious life but was a bit afraid of it, and even had a boyfriend. I graduated college, had a career, dated different people and was even engaged. I was living in Tacoma, working for the Department of Corrections, and decided to move back home to Spokane to go to grad school at Gonzaga University for education.
When I started thinking again about religious life, my adviser at Gonzaga was a Sister from a community on the East Coast. She suggested I connect with local Sisters – Sister Mary Garvin specifically. So I went to Sister Mary's office and asked her a million questions. She invited me over to dinner with Sister Sheila McEvoy and I asked a million more questions. I felt at home there. Sister Mary Garvin became my spiritual director, and she really challenged me to do many seminars and programs. I didn't feel like I had the answer, but I knew this was something that I wanted to pursue.
I started hanging out with the Holy Names Sisters. It felt like the right fit.
The values of the Holy Names Sisters – education, social justice, spirituality – all these things really spoke to me. After three years of teaching (and discerning) at Gonzaga Prep, I moved into Mission House in Spokane to begin my candidacy. I entered the novitiate in Windsor, Ontario with Sister Crystal Clark. It was nice to do it with another person – I appreciated having her there. We worked at the Refugee Office with Sister Helen Petrimoulx. I then completed my mission novice year in Alameda, CA, where I worked in a few areas, including a safe house for trafficked women and an immigrant rights office. I made my first vows and after completing some additional education work, I started a teaching job at Ramona Convent Secondary School.
The SNJM Corporate Stands on social justice motivate the work that I do with justice education – developing curriculum around water, human trafficking and immigration. Inspired by a local parish, I created a homelessness solidarity retreat for students – we sleep in cardboard boxes on the school grounds, feed breakfast to the homeless the following morning, and have special guest speakers who have experienced homelessness. I also escort students to the LA Freedom Walk on Human Trafficking Awareness Day every January. I have worked to incorporate the SNJM corporate stands into the school curriculum.
At Ramona, I work with three other SNJM Sisters and am able to collaborate with Campus Minister Sister Daleen Larkin. At present, I am working on a grant to install drought-resistant landscaping across the Ramona campus and update water infrastructure to be more efficient. We have a very active Peace and Justice group in Southern California and I am able to network with them to bring opportunities to my students.
I am grateful for the opportunities that I've had and for the chance to be involved in a ministry that I find meaningful.
Read more about Sister Anna, and the people and places she shared in her story