Sister Helen Sandoz, SNJM
(Sister M. Julie Anne)
March 3, 1933 – August 8, 2023
Sister Helen Sandoz, SNJM departed this life on August 8, 2023 at Mary's Woods at Marylhurst in Lake Oswego, Oregon.
Sister Helen celebrated 90 years of life and 70 years of her religious profession.
A Mass of Resurrection was held Thursday, September 14, 2023, at 11:00 a.m. at Chapel of the Holy Names in Lake Oswego, Oregon.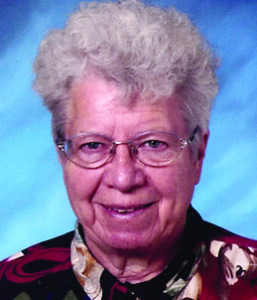 Sister Helen Sandoz, SNJM
March 3, 1933 – August 8, 2023
Sister Helen Sandoz, SNJM, 90, died on August 8 at Mary's Woods at Marylhurst, Lake Oswego. Mass of Resurrection will be Thursday, September 14, 11am, Chapel of the Holy Names at Marylhurst. Burial follows at Holy Names Cemetery.
Daughter of Julius and Anna (Kasberger) Sandoz, Helen was born in The Dalles, Oregon, which she dearly loved for its wide rolling vistas, mountains, and rivers. She grew up on the Sandoz family farm with her older brothers, James, Charles and Bernard (Buddy) and attended both grade and high school at St. Mary's Academy in The Dalles.
In 1951, the summer following her high school graduation, Helen joined the Sisters of the Holy Names at Marylhurst "With the help of the Lord," she added. On receiving the Holy Habit the next year, she was given the religious name Sister M. Julie Anne. She made her final profession of vows in 1958.
From the beginning, Helen's ministry was music. "My entire career has been in music and the music was instilled into my life by the Holy Names Sisters," she said. She remembered when, as a six-year-old at St. Mary's, she heard piano sounds floating down to her first-grade classroom from the music rooms above. "My dad was a fiddler and my grandmother played the piano. It was like living a Suzuki experience, readying my ear for the later training. All these great teachers, a fine education, this was my backdrop," Helen said.
When the Sisters asked Helen's parents to let her take violin lessons to fill a need for the school orchestra, Helen didn't think she could do it and kept trying to quit the violin. But, finally one day, she got "the sound," and a violinist was born.
For over 60 years Helen taught piano and violin in elementary, high school and college settings. Among her teaching assignments were the Immaculate High School, Seattle; St. Mary's Academy, Portland, and Marylhurst College, Lake Oswego. However, most of her teaching was at the elementary level, including St. Mary's, Eugene; The Madeleine, Portland, and her final 32 years at Holy Redeemer School in North Portland.
Helen was one of the first SNJM music teachers to use the Suzuki method, a music curriculum and teaching philosophy developed by Japanese musician and educator Shinichi Suzuki. Of the method Helen said: "It is so effective and helps the child to get 'that sound.'
In addition to her school responsibilities, Helen, who was also an accomplished organist, provided music for liturgical services in parishes where she lived.
Over time Helen refined her own skills as a performer and was a member of several groups including the Marylhurst Symphony Orchestra and the Oregon SNJM Chamber Ensemble. She and her musical collaborator Sister Rosemary Antonich were also known to perform regularly at a local coffee house in Portland that featured classical music.
Helen participated for many summers in the Young Musicians and Artists program, a camp founded in 1965 by Sister Ann Miriam Albrich. Helen remembered fondly her YMA summers that brought music and art alive for the students, counselors and faculty in the rich tradition of the Sisters' commitment to the arts, even as experienced in a summer camp environment.
When Helen retired to Mary's Woods, a continuing care retirement community, she offered her musical talents for liturgical functions in the Chapel of the Holy Names and was in great demand within the community as an energetic pianist and accompanist for numerous social gatherings.
Helen will be remembered as a woman of gentle humility and kind humor, who cherished her family and friends. She was hugely generous in sharing her musical gifts, was a supportive mentor, and a patient and caring teacher who instilled in her students a sense of beauty, discipline, confidence, and pride.
A Sister of the Holy Names of Jesus and Mary for 70 years, Sister Helen is survived by her nieces and nephews and members of her religious community. Remembrances may be made to the Sisters of the Holy Names, PO Box 398, Marylhurst, OR 97036 or online at www.snjmusontario.org/donate.