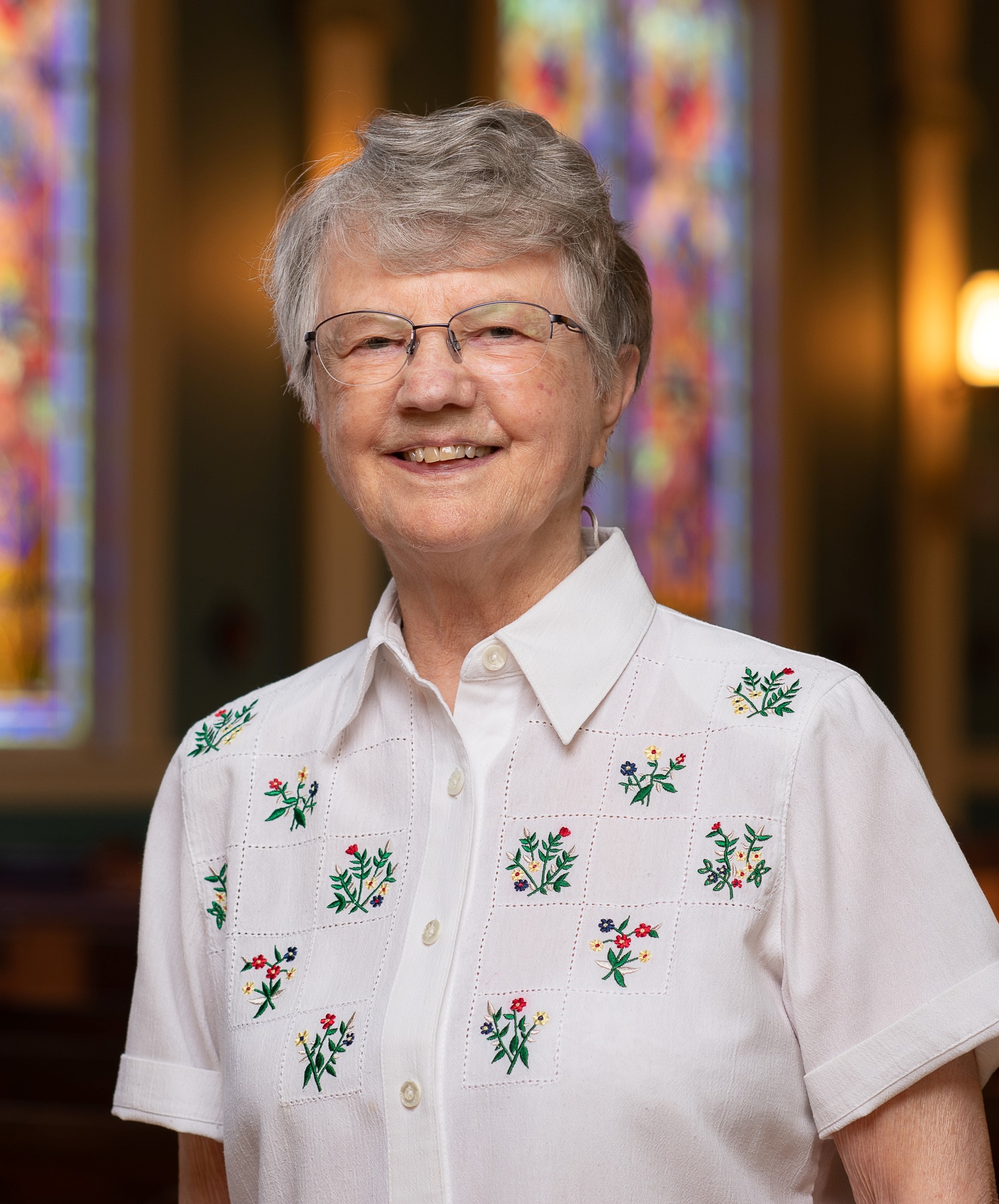 Sister Kathleen Hearn, SNJM
(Sister Rosita Mary)
April 11, 1940 – July 14, 2023
Sister Kathleen Hearn, SNJM departed this life on July 14, 2023 at Meridian Park Hospital in Tualatin, Oregon.
Sister Katie celebrated 83 years of life and 62 years of her religious profession.
A Mass of Resurrection was held Thursday, August 31, 2023, at 11:00 a.m. at Chapel of the Holy Names in Lake Oswego, Oregon.
Sister Kathleen (Katie) Hearn, SNJM
April 11, 1940 – July 14, 2023
Sister Kathleen (Katie) Hearn, SNJM, 83, died on July 14, 2023, at Meridian Park Hospital in Tualatin, Oregon. A Mass of Resurrection will be celebrated Thursday, August 31, at 11 a.m. at the Chapel of the Holy Names at Marylhurst, Lake Oswego. Burial follows at Holy Names Cemetery, Marylhurst.
The daughter of John and Madeline (Bowman) Hearn, Katie was born and raised in Portland, Oregon. She attended St. Philip Neri grade school and St. Mary's Academy, both staffed by Holy Names Sisters. After graduating from St. Mary's, Katie joined the Sisters of the Holy Names, eventually receiving the religious name Sister Rosita Mary.
For 28 years, Sister Kathleen taught children in the primary grades and worked with their families — a ministry that took her to Holy Names elementary schools, including Sacred Heart, Medford; Our Lady of Perpetual Help, Cottage Grove; St. Joseph's, Salem; and The Madeleine, St. Thomas More, and Holy Family in Portland.
In 1975 she joined the faculty of the Marylhurst Early Childhood Center working with preschoolers and kindergartners for seven years. During this time, she earned a master's degree in religious education from Fort Wright College in Spokane, Washington.
In the 1980s, Sister Kathleen moved into a new ministry with Hispanic families in Oregon's Washington County. To prepare herself, she studied at the American Cultural Center in San Antonio, Texas, and spent time in Mexico where she lived with a local family. Back in Oregon, she worked with both Centro Cultural in Cornelius and Migrant Head Start in Hillsboro.
Her ministry further evolved in the mid-1990s when she prepared herself for ministry as a chaplain, completing CPE (Clinical Pastoral Education) training at Providence Medical Center in Southeast Portland. As a registered chaplain, she served at Evergreen Hospice in Salem, Providence Milwaukie Hospital, and Providence Mt. St. Vincent Care Center in West Seattle.
When she retired, Sister Katie returned to Portland, coming full circle as she began volunteering as a Eucharistic minister bringing communion to the homebound in St. Philip Neri, the parish where she grew up. Additionally, she spent 10 years as a volunteer in pastoral services at Mary's Woods at Marylhurst, a continuing care retirement community, in Lake Oswego.
Sister Katie appreciated spirituality and beauty, enjoying long walks in nature. She once wrote that among her favorite Scripture quotes was "Be still and know that I am God" (Psalm 46:10). With a warm and welcoming personality, she loved good conversation and delighted in the successes of others.
A Holy Names Sister for 62 years, she is survived by siblings James and Rita, her nieces and nephews, and the members of her religious community. Remembrances may be made to the Sisters of the Holy Names, PO Box 398, Marylhurst, OR 97036 or online at www.snjmusontario.org/donate.