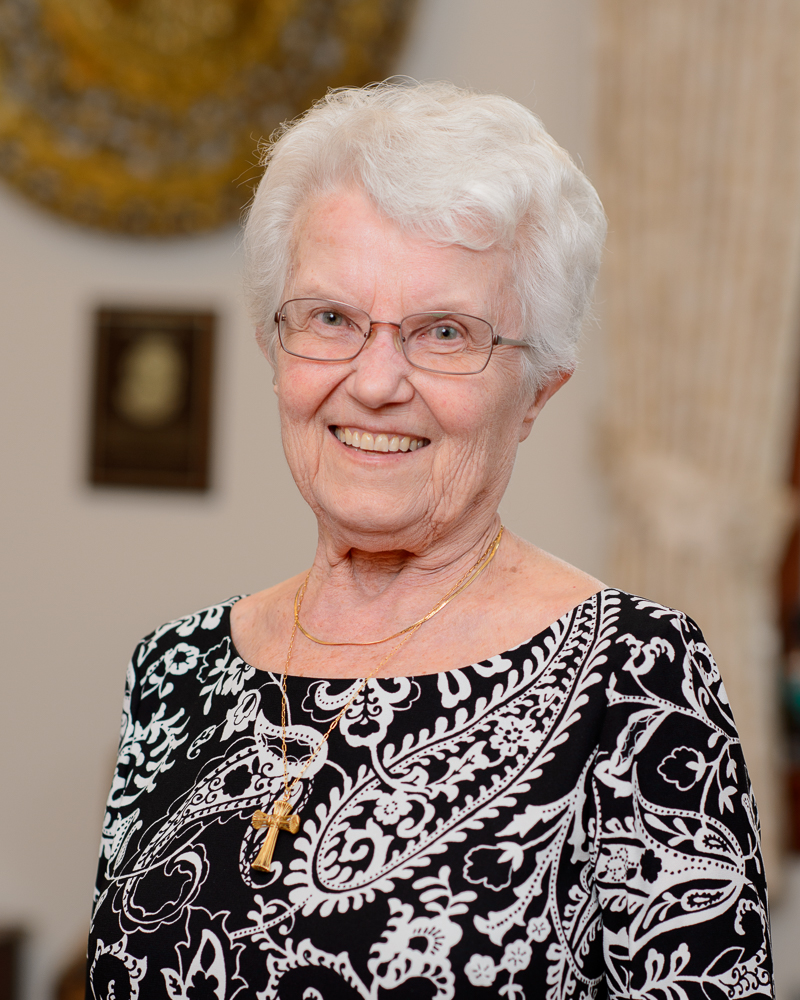 Sister Janina Kokorowski, SNJM
(Sister Janina Maria)
July 12, 1937 – July 13, 2023
Sister Janina Kokorowski, SNJM departed this life on July 13, 2023 at Mary's Woods at Marylhurst in Lake Oswego, Oregon.
Sister Janina celebrated 86 years of life and 64 years of her religious profession.
A Mass of Resurrection was held Wednesday, August 23, 2023, at 11:00 a.m. at Our Lady of the Lake Church in Lake Oswego, Oregon.
Sister Janina Kokorowski, SNJM
July 12, 1937 – July 13, 2023
Sister Janina Kokorowski, SNJM, 86, died on July 13 at Mary's Woods at Marylhurst in Lake Oswego, Oregon. A Mass of Resurrection will be celebrated Wednesday, August 23, 11am, at Our Lady of the Lake Parish Church, Lake Oswego. Burial follows at Holy Names Cemetery, Marylhurst.
Born in Poland, Janina was the daughter of Feliks and Maria (Tomezuk) Kokorowski. World War II uprooted their lives on a subsistence farm in Poland. As a six-year-old, Janina and her parents, two younger sisters, grandmother and uncle were forcefully removed to Germany. Trucked there, they were commandeered as slave laborers for a farm. She remembers the fear and uncertainty of their life there, crowded into a single room and working endless hours in the fields.
At the conclusion of the war, the Kokorowskis were fortunate to be located in the British partition of post-war Germany where they were housed in various Displaced Persons camps over the next five years. In 1950 Janina's parents made the decision to immigrate to the United States. There had been a thought to return to Poland but Janina's parents chose to leave Europe for the United States, already familiar with the hostile environment in many Eastern European countries caught in the brutal grip of Soviet Communism.
A family member living in Seattle, Washington, was able to persuade a U.S. citizen to sign sponsorship papers enabling the Kokorowski family to come to Seattle. Sister Janina remembered well her family's arrival in Seattle on Labor Day weekend.
Hardly unpacked, the children were in school the following Tuesday at St. Mary's, a school staffed by the Holy Names Sisters. Janina was placed in grade six at age 13, knowing no English and with an interrupted educational history in Germany.
She remembered fondly Sister Eleanor Holkenbrink, (Michael Archangel) whom she credits with teaching her English. Every day after school Sister would take time to help Janina to speak, read and write English. Later, on the recommendation of Sister Joseph Mary Basick, Janina was allowed to skip eighth grade and enter immediately into high school at The Immaculate, Seattle.
She was also thankful for the multicultural diversity of both St. Mary's and The Immaculate which were formed of a wide range of persons culturally and socially. This helped to make her immersion into life in the United States far less threatening as a newly arrived refugee.
In 1956 Janina entered the Holy Names Sisters at Marylhurst, Oregon, eventually receiving the religious name Sister Janina Maria. Her first 16 years were in elementary education. She began as a first-grade teacher at St. Mary's School in Eugene and later taught at The Assumption School in North Portland and served as principal at Sacred Heart School in Medford.
When she moved into parish ministry, Janina served as Director of Religious Education in several parishes, including St. Mary's in Corvallis, Blessed Sacrament and Queen of Peace in Portland, and St. Michael's in Olympia, Washington. During this time, she completed a master's in theology from the Franciscan School in Berkeley. Her final DRE position was as at Our Lady of the Lake Parish, Lake Oswego, where she retained loving relationships long after her retirement.
A Holy Names Sister for 64 years, Janina is remembered for her deep faith, her inner strength, and her passion for justice and freedom. She is survived by brothers Stan, Frank and Ted, her nieces and nephews, and the members of her religious community. Remembrances may be made to the Sisters of the Holy Names, PO Box 398, Marylhurst, OR 97036 or online at www.snjmusontario.org/donate.