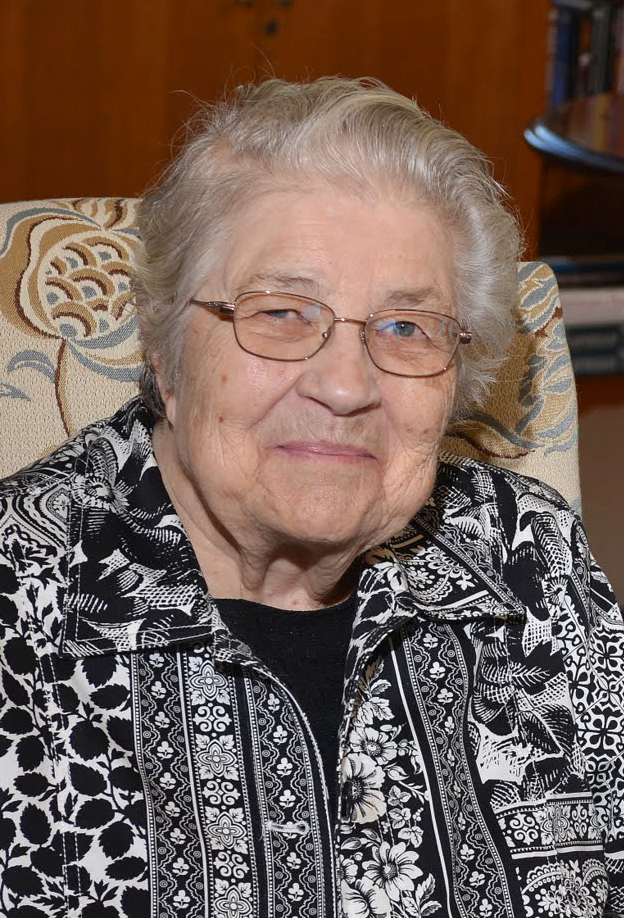 Sister Lois Morisky, SNJM
(Sister M. Eleanor Barbara)
February 27, 1923 – April 10, 2023
Sister Lois Morisky, SNJM departed this life on April 10, 2023 at Mary's Woods at Marylhurst in Lake Oswego, Oregon.
Sister Lois celebrated 100 years of life and 80 years of her religious profession.
A Mass of Resurrection was held Thursday, May 11, 2023, at 11:00 a.m. at Chapel of the Holy Names in Lake Oswego, Oregon.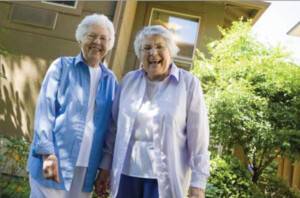 Sister Lois Morisky, SNJM
February 27, 1923 – April 10, 2023
Sister Lois Morisky, SNJM, 100, died on April 10 at Mary's Woods at Marylhurst, Lake Oswego, Ore. A Mass of Resurrection will be held Thursday, May 11, at 11 a.m. at the Chapel of the Holy Names, Marylhurst.
Daughter of Felix and Bertha Long Morisky, Lois was born on February 23, 1923, in Milford, Iowa, and this year celebrated her 100th birthday.
In 1933 the family left the cold environs of Iowa for the more hospitable weather of the Pacific Northwest, eventually settling in Oregon's mid-Willamette Valley. Wishing a Catholic education for their daughters, the Moriskys sent Lois and her younger sister Lavone, at different times, to the boarding school at Sacred Heart Academy in nearby Salem. This is where they first met the Sisters of the Holy Names.
After graduating from Sacred Heart, Lois entered the Sisters of the Holy Names of Jesus and Mary, receiving the religious name Sister M. Eleanor Barbara. Later her sister Lavone (Sister Mary Felice) would also enter the Holy Names Sisters, following Lois to the Sisters' novitiate at Marylhurst, Ore.
Sister Lois began her career in education as an elementary school teacher in Holy Names schools, including St. Joseph and St. Mary in Seattle, and St. Vincent in Salem. Becoming a principal at an early age, she served as administrator in schools across the West Coast, including at Christie School three different times, St. Francis in Portland, and St. Peter in Ontario, Ore., St. George in Seattle, St. Francis in Bend, Ore. and Holy Name school in Ketchikan, Alaska.
Over time, Sister Lois earned a Bachelor of Arts in education from Marylhurst College, a Master of Education with a major in counseling and guidance from Gonzaga University, Spokane, Wash., and a Master of Science with a major in Special Education and Psychology. California Lutheran College, Thousand Oaks, Calif.
In 1966 Sister Lois was appointed director of The Christie School, the orphanage for girls located on the Sisters' campus at Marylhurst. As director of The Christie School, she was pivotal in the transition of the Christie program to a residential treatment center, shifting its service as an orphanage to a social service agency with a residential treatment program for children whose needs necessitated such care.
Except for the four years Sister Lois served as manager of the Sisters' apartment complex in northeast Portland, her ministry remained education. A gracious presence and gifted administrator, the final four years of her educational career were spent halfway round the world at the College of the Marshall Islands, a small multi-island nation located in the South Pacific. As chair of CMI's Department of Education, she guided the direction of the College's efforts devoted to the preparation of elementary and secondary teachers for the region.
A kind and gentle soul with an adventurous spirit, Sister Lois is remembered as a woman of deep faith, who was always interested in others, grateful for the blessings God had given to her, and kind to every person lucky enough to encounter her.
A Holy Names Sister for 80 years, Sister Lois was preceded in death by siblings Sister Lavone and her brothers Marvin, Don and Jim. She is survived by her brother Tom, her nieces and nephews, and the members of her religious community. Remembrances may be made to the Sisters of the Holy Names, PO Box 398, Marylhurst, OR 97036 or online at  www.snjmusontario.org/donate.