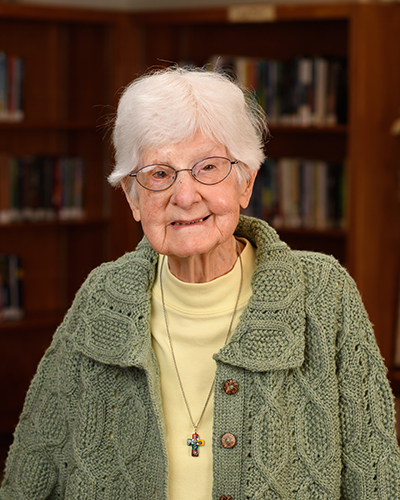 Sister Frances Harold, SNJM
Sister Mary Karen
March 27, 1919 – December 17, 2022
Sister Mary Frances Harold, SNJM departed this life on December 17, 2022 at Mary's Woods at Marylhurst in Lake Oswego, Oregon.
Sister Frances celebrated 103 years of life and 83 years of religious profession.
A Mass of Resurrection was held Thursday, January 12, 2023, at 11:00 a.m. at Chapel of the Holy Names in Lake Oswego, Oregon.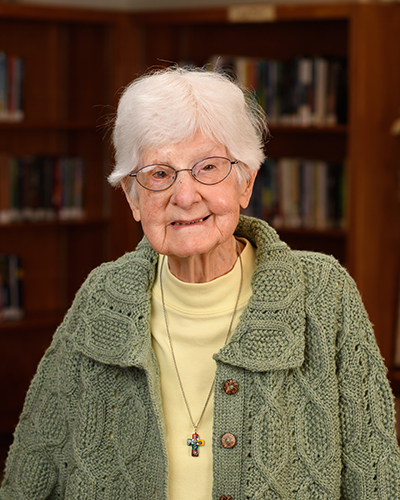 Sister Frances Harold, SNJM
March 27, 1919 – December 17, 2022
Sister Frances Harold, SNJM, 103, died on December 17, 2022, at Mary's Woods at Marylhurst in Lake Oswego, Oregon. Funeral plans are pending. For information, call (503) 534.5778.
Growing up in Portland, Oregon, Frances's life was shaped by the inspiration of her parents. She reveled in tales told by her intrepid father of his adventures as a teenager during the Alaska gold rush. His resilience and resourcefulness served him well in surviving the dangers and challenges of the Klondike. As for her mother, her example of deep faith and generosity informed young Frances for a lifetime.
Frances was preceded into the Holy Names Sisters by her older sisters, Mary Jane (Sister Angel Guardian) and Anne (Sister Rosilda). She was influenced in part by the path chosen by her sisters, but when asked about her entry in 1937, Frances asserted that the commitment of the Sisters to the charism of Blessed Marie-Rose Durocher, their foundress, was what in the main brought her to the decision to enter.
In over 80 years of service as a Holy Names Sister, Frances lived out her ministry in significant stages. She began as a music teacher, working with children to build their musical skills, but also to infuse them with a love of music. The SNJM schools where Frances taught included Sacred Heart, Spokane, Washington; and in Oregon at St. Francis, Bend; Sacred Heart Academy/St. Joseph's, Salem; St. Mary's, Eugene; Star of the Sea, Astoria; St. Paul's, St. Paul, and St. Peter's and Cathedral, Portland.
As she approached mid-life, Frances returned to school and was one of the first to attend a newly developed program, the Institute for Spirituality and Worship, at Berkeley Theological Union. Following her time at Berkeley, she accepted a position in parish religious education and enjoyed 10 fruitful years at St Patrick's parish in Canby, Oregon.
Next came St. Frederic's in St. Helens, Oregon, again in religious education but with the added component of the parish youth group. Taking a realistic look at herself and the high schoolers that she enjoyed working with, she thought to herself these kids want skiing and beach trips and I am nearly 70 years old, maybe it's time for someone else to take over. With that, she retired and moved to Portland where she made herself available for community service activities like driving Sisters to doctor's appointments.
About a year later Frances was approached by the Oregon provincial leader to consider a full-time commitment traveling the state to introduce local parishes to the Retirement for Religious Appeal program. She and her companion Sister Andre Campau of the Sisters of St. Mary's of Oregon journeyed across Oregon in Sister Andre's van promoting the yearly fund drive in support of religious communities of women and men who had traditionally received no retirement benefits from the Church for dedicated service in education, health care and numerous other needs of the people of God. Throughout those 11 years, Frances was continually struck by the generosity of the Catholic people when they understood the plight of many aging religious communities struggling to support their elder members.
About the same time, Frances saw an ad in her local parish bulletin seeking a communion minister for Legacy Emanuel Hospital. It remained in the bulletin for a couple of weeks and in reflecting she thought "I can do this. I can give a couple of hours a week to bring communion to patients at the hospital," which she did for 17 years, retiring when she turned 90.
When asked about her favorite thing in her ministry career, Frances replied, "Looking back I could hardly choose what I did as one being favored over the other. I just loved all those things I did."
Even though her "active" ministry had closed and she now resided within the retirement community at Mary's Woods, she pursued a ministry of presence. Frances will be remembered that loving, caring presence, devoted to her large family, to her friends, and to the Sisters in her community. On turning 100 in 2019, she expressed her gratitude for her 100 years and acknowledged the abundance that had been showered upon her. She counted her family and friends as a significant part of that abundance, God's special gift to her giving her lots of help along the avenues of a century.
A Holy Names Sister for 83 years, Sister Frances is survived by her brother, Chuck Harold, many nieces and nephews, and the members of her religious community. Remembrances may be made to the Sisters of the Holy Names, PO Box 398, Marylhurst, OR 97036 or online at www.snjmusontario.org/donate.