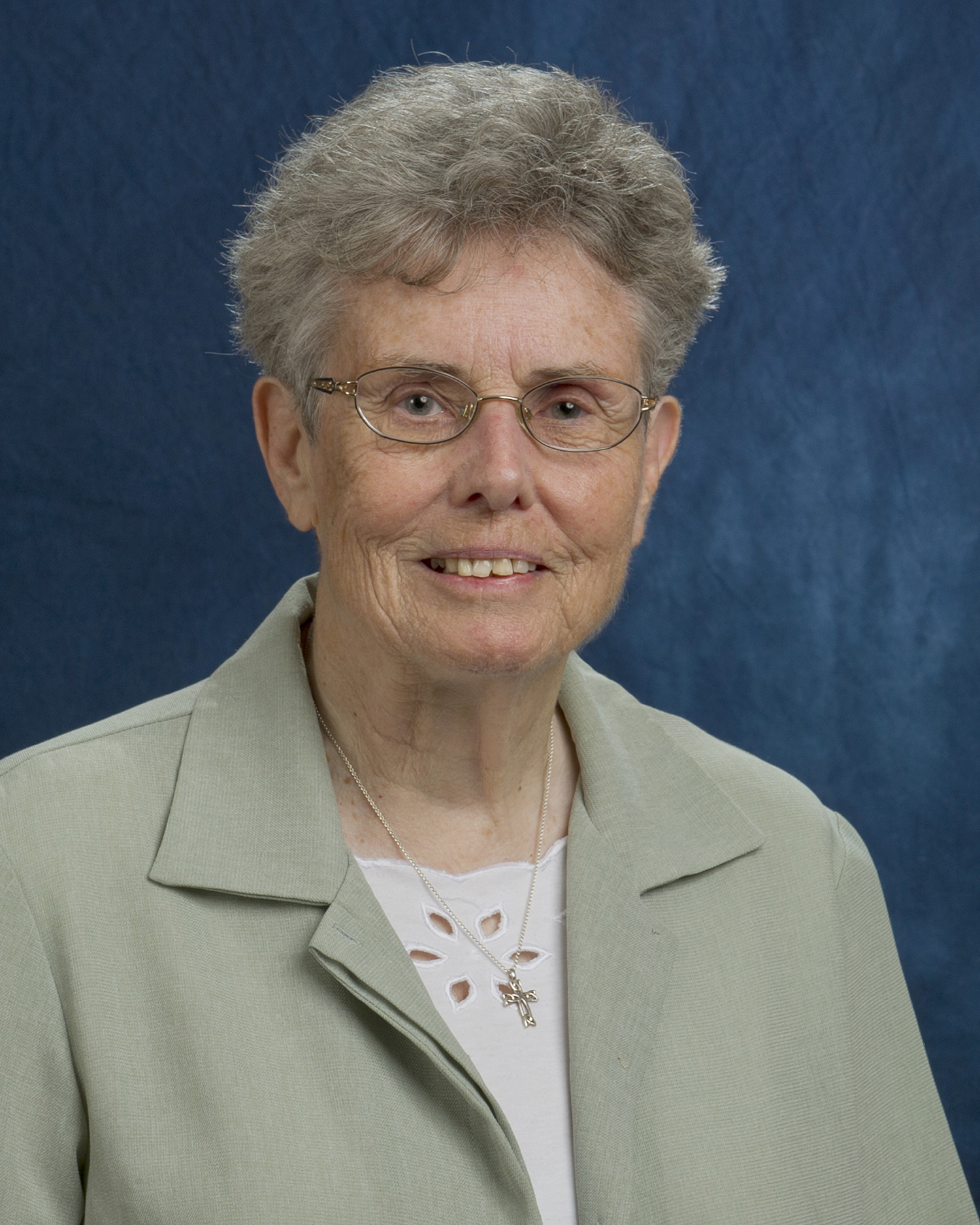 Sister Marguerite Kirk, SNJM
Sister Elizabeth Katherine
September 26, 1932 – November 15, 2022
Sister Marguerite Kirk, SNJM departed this life on November 15, 2022 at El Camino Hospital in Los Gatos, California.
Sister Marguerite celebrated 90 years of life and 60 years of religious profession.
A Mass of Resurrection was held Saturday, December 3, 2022, at 10:30 a.m. at Holy Spirit Chapel in Campbell, California.
Her burial was at Holy Sepulchre Cemetery, Hayward, California.
closed
Homily for Sister Marguerite
Celebration of Life:
Marguerite Kirk, SNJM
Saturday, December 3, 2022
Holy Spirit Chapel, Campbell, CA
Homily prepared by Daleen M. Larkin, SNJM
Scripture
Wisdom 9
Psalm 46
Philippians 4:4-7
Luke 4:16-19
Good morning,
I am Daleen Larkin and Marguerite has been a friend of mine since my early years in the SNJM community.  I am grateful for her loving presence and guidance in my life.  I was so happy to be in this Chapel in September to celebrate her 60th Jubilee and the next day her 90th birthday!  And I will always treasure our telephone conversation two days before she passed to God.
In today's gospel …
How does Jesus know the Spirit of the Lord is upon him?
How does anyone know if the Spirit of the Lord is upon them?
In what part of us do we encounter this Spirit of the Lord?
And what does this Spirit of the Lord say to us in the deepest core of our being?
Where does this Spirit of the Lord, this wisdom, come from …
Pleasing the God of our ancestors,
and where does this wisdom dwell,
dynamically knowing and understanding everything?
What does this Spirit of the Lord, this wisdom, look like …
Thus we do not fear …
God is in the midst of life …
The Lord of hosts is with us …
Glad tidings shared with poor people…
Proclaiming liberty to captives…
And recovery of sight to the blind?
Let your kindness be known by all …
Come and see the works of the Lord:
Dispatched from the holy heavens
To help us, to toil with us …
This wisdom, this Spirit of the Lord
Dispatched to guide us prudently in all our undertakings
Protected by God's glory
Teaching us what is pleasing to God
Seeing so believing can be alive and real?
What does this Spirit of the Lord, this wisdom, look like?
What does it mean to live each day?
Rejoice in God, always!
I shall say it again,
Rejoice in God, always!
What does it mean to live each day?
And so, Marguerite,
From all the questions of this life
May you live eternally the answers
With God and all the Holy Ones who have gone before us.
And the Assembly says to Marguerite,
And to all the Holy Ones who have gone before us …
To all of us gathered here today …
Rejoice in God, always!
We shall say it again:
Rejoice in God always!
Amen.  May it be so.  Blessed be.
Reflection for Sister Marguerite
Reflection on the Life and Spirt of
Sister Marguerite Kirk, SNJM
Holy Spirit Chapel, Campbell, CA. 95008
December 3, 2022
We gather to celebrate the life and spark of Sr. Marguerite Kirk, our Holy Names sister, finance wizard, friend, aunt and matriarch of the large Kirk family comprised of seventeen nieces and nephews. Marguerite was born in Denver, CO. on September 26, 1932, the last of four children born to Earl and Hannah Kirk. She attended Catholic elementary and high school there as well as Regis College for two years. She then moved to San Francisco, CA. in 1957 where she attended College while employed by the Telephone Company.
Marguerite's SF parish was St. Cecilia's. In 1959, she met our Sr. Michaeline Mary Falvey and Rev. James McKay there and the dream she held since the age of sixteen of becoming a religious blossomed. She was encouraged to discern a call to the Holy Names Community and Marguerite entered the convent at Los Gatos, CA on January 24, 1960. Her Baptismal name Marguerite means "precious possession – pearl" and Kirk means "church or temple". How beautifully she has lived the meaning of her name in her service to God and God's people as a religious.
I first met Marguerite in 1962 when she was a novice sent to teach fourth grade for a semester at All Souls, Alhambra where I taught first graders.  We gradually grew into a deep friendship over the next sixty years. Early on, Marguerite studied at five different colleges eventually earning a BS degree in Business Administration through UC Berkeley. Her lifetime of devoted ministry has been mainly in financial administration as a treasurer, trustee, in planned giving, financial aid and instructor at Holy Names University and Local Treasurer at Holy Names High School.  Our Finance Officer added that Marguerite graciously shared her gifts of organization and attention to detail as she facilitated the activities of the SNJM Charitable Trust for the last fifteen years.
With generosity of heart, Marguerite also served as a Provincial Councilor for twelve years and as Candidate and Novice Director for four years. She served with magnanimity and skill in these varied ministry calls. Her keen mind, people skills, sense of proportion and humor enabled her to fulfill them superbly. A congregational leader wrote that a million thanks needs to be given to Marguerite for the strong and sound financial management she provided our sponsored institutions and congregation as well as other congregations  engaged in mission with strong financial footing.
One might think with all this activity and commitment that Marguerite had no time for fun, friends or family.  Not true. At Merrill Gardens Retirement Center, Marguerite was a warm companion, dedicated bridge player, loved Solitare on her iPad, relished dinners out and political discussions with friends, looked forward to her Book Club meetings and of course on occasion delighted in her favorite food "in and out burgers". In her younger years, she valued being out in nature camping and traveling to other countries both for ministry and pleasure. She once experienced a Safari in Africa with a grandnephew. During Christmas vacations, she often gave fun tours of SF which I thoroughly enjoyed.
This past September Marguerite celebrated joyfully with community her Jubilee of Grace (60 years) and her 90th birthday. We had several parties and enjoyed "in and out burgers".One friend shared," I treasured her friendship. She always expressed gratitude to the community for the care received. Community and family were her treasures. I believe she has a contemplative attitude that was reflected in her ministry and relationships." Another expressed, "Her quiet but alive presence whenever I met her exuded her spirit of humility, graciousness and living the moment. Her easy laughter and perceptive comments and questions made being with her a pleasant experience." Another remarked that "she was a joy to work and live with … unassuming, thoughtful, wise and kind. There was no ego – just caring service and commitment."
Marguerite cherished her family members especially in the last decade of her life. She connected daily with them by Zoom. One niece … stated, "She was a no fuss lady, completely other centered, the best mother ever to me and others. She was a saint with wisdom and bright vision."
Another family member writes, "Aside from my dear wife, the person who knew me best in the world was my beloved aunt and Godmother, Sr. Marguerite. She was in California in a life of service and sacrifice and I immersed in documentary filmmaking and politics on the East Coast. I had never had a connection to an older person who I trusted and admired so completely. Once we began to speak regularly, I came to rely on her in a profound and life-changing way. The quiet force of her love and her unflinching support, her huge heart and even bigger brain – all these elements were an oasis and a source of inspiration for me. Through her kind and compassionate eyes, I experienced the world and myself in a different way, and I am forever changed by knowing her and loving her."
A nephew wrote, "I could feel totally lost right now had my precious aunt Marguerite not counseled me nearly every day teaching me to feel empowered through devotion, steady work and deep Faith. Her prayers and formidable Irish wit have been lifesavers. I phoned her in a panic one day when I convinced myself that I was unworthy to compose sacred music. She calmly, lovingly, in a sense maternally, shared a prayer based on Eph. 3:20: 'Glory to God whose power, working in us, can do infinitely more than we can ask or imagine'. The thing is with her small stature and keen humility she had gigantic capacities, imagination and influence… I could make her laugh…She could make me a more complete person in an Irish wink, the enterprise of which blessedly occupied a space in her razor sharp mind and splendid soul right up to our last conversation just days ago. "
So, dear Marguerite, we celebrate and give thanks to our God for sending you – a precious Irish lass – to our universe and a Colorado family in September, 1932, to our Holy Names Community in January, 1960 and bringing you home to your Creator and Beloved – the desire of your heart- in November, 2022! As we return to our Mass of Resurrection and Commendation, may they be a source of praise, gratitude and comfort to those of us who love and miss you. Amen
Sr. Molly Neville SNJM