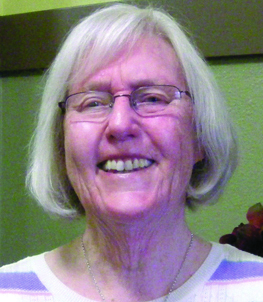 Sister Delores Rashford, SNJM
Sister M. Rose Dolora
July 30, 1929 – March 8, 2022
Sister Delores Rashford, SNJM departed this life on March 8, 2022 in Newberg, Oregon.
Sister Delores celebrated 92 years of life and 71 years of religious profession.
Sister Delores Rashford, SNJM
July 30, 1929 – March 8, 2022
Sister Delores Rashford, SNJM, 92, died March 8, 2022, in Newberg, Oregon.
The only child of John and Rose Kaumans Rashford, Delores Rose Rashford grew up in Santa Monica, California. She attended St. Monica's Elementary and High School where she was active in student government and sports. Graduating in 1947, Delores remained an enthusiastic St. Monica's alum throughout her life.
After a year of college Delores entered the novitiate of Sisters of the Holy Names of Jesus and Mary in California and later received the religious name Sister M. Rose Dolora.
Her long career as an educator began in 1950 as an elementary teacher in Holy Names schools in California, including St. Mary's, Los Angeles; St. Anthony's, San Gabriel; All Souls, Alhambra; and St. Monica's, San Francisco.
Moving to the secondary level in 1954, she taught at her alma mater St. Monica's, Santa Monica, as well as Marin Catholic, Kentfield; Holy Names High School, Oakland; and St. Andrew's, Pasadena.
In 1967 she was assigned Director of SNJM Sister Students in the Scholasticate and part-time faculty at Holy Names College, Oakland. It was a challenging time to be director of formation. The SNJM community was in rapid change, the Catholic Church was attempting to implement the renewal of Vatican II and US society was in a cultural revolution. As director, Delores emphasized academic study and promoted vigorous discussion based on the social justice teachings of the Church.
A woman of foresight, Sister Delores coordinated a series of religion workshops for the California Province bringing top-name theologians to Holy Names College to present the latest in theological thinking following the epic event of the Second Vatican Council.
In 1970 she returned to St. Monica High School, Santa Monica, as an instructor and in 1976, after a couple of intervening years at Holy Names High School, Oakland, she was named principal at St. Monica's.
In 1980 Sister Delores moved into a fulltime position in post-secondary education at Holy Names College (later called University). While there, she was a member of the Religious Studies Department, eventually serving as the department chair. In 2001, Delores collaborated with Sisters Margaret Campbell, Sheila Gibson, and Irene Woodward to create the M.A. in Pastoral Ministries, designed for women and men engaged in ministry who wished to deepen their theological grounding and practical skills required for their work. She was also deeply involved in the HNU's Creation Center Spirituality Program and later with the Sophia Program.
For a number of years Delores along with Sister Susan Maloney were the Social Justice Coordinators for the SNJM California Province. Garnering the support of province leadership, they developed a three-year Justice-Education program for the Sisters. Delores was a powerful and knowledgeable direction setter in this effort.
Over the years, Delores earned an M.A. in Mathematics at the University of Washington, an M.A. in Theology at the Pacific School of Religion and a Ph.D. in Theology at The Union Institute Graduate School.
Following her retirement from Holy Names University in 2006, Delores moved to Oregon where she served as co-director of the SNJM Associate Program. In her later years, she continued an active ministry in spiritual direction and retreat work.
A Holy Names Sister for 71 years, Sister Delores Rashford was a marvelous educator and an ardent advocate for justice. She was an articulate feminist theologian with a keen insight into the issues and a strong voice on behalf of change. She will be remembered as a woman of prayer and rich spirituality who lovingly shared her time and energy with all she met.