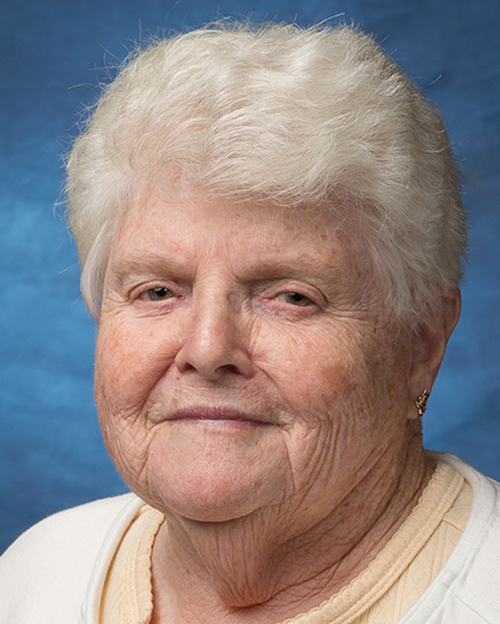 Sister Kate Buzard, SNJM
(Sister M. Marcella Rose)
August 6, 1932 – June 17, 2021
Sister Kate Buzard, SNJM departed this life on June 17, 2021 at Mary's Woods at Marylhurst in Lake Oswego, Oregon.
Sister Kate celebrated 88 years of life and 68 years of religious profession.
Sister Kathleen Buzard, SNJM
(Sister Marcella Rose)
August 6, 1932 – June 17, 2021
Sister Kathleen "Kate" Buzard, SNJM, 88, died on June 17 in Lake Oswego. Funeral arrangements are pending and will be announced later.
The daughter of Ralph and Kathleen Early Buzard, Kate grew up in Seattle along with two sisters and a brother. From her father, a captain on sea-going tugs on the Alaska-Seattle run, she learned a love of the sea and outdoors. One of her happiest memories of her father was going to the Ballard Locks to wait for his boat to come home and hopping on board as he came through the locks. From her Irish-born mother she learned that faith and prayer are the most essential elements in life as well as a sense of organization and a sense of humor. While in high school Kate turned out for all sports, even basketball despite her short stature, and developed a keen interest that remained all her life as a diehard fan of the Seattle Mariners and the Gonzaga University teams.
Following her high school graduation from Holy Names Academy in 1950, she entered the Sisters of the Holy Names of Jesus and Mary at Marylhurst, Oregon, receiving the religious name Sister Marcella Rose.
Much of Sister Kate's career was spent in education, teaching in Holy Names grade schools in Seattle, Spokane and Richland in Washington and Los Angeles and Oakland in California. During this time she completed her BA at Holy Names College, Spokane, and an MA in Special Education from Holy Names College, Oakland. These years in formal education also included several years at Holy Names College, Oakland, including eight years as the Director of Financial Aid.
Feeling a call to parish ministry, she completed the Pastoral Administration Certification Program through the Archdiocese of Seattle. She held positions as pastoral associate or administrator in several Seattle-area parishes including Holy Family, St. Paul, St. Matthew and Our Lady of the Lake. She also served as plant manager and treasurer for the Convent of the Holy Names. Spokane, and returned later to be administrator.
In retirement, Sister Kate was a treasured volunteer at Our Place Ministries, Spokane, offering her talents in several capacities. She meet daily with clients to determine how best to meet their emergency needs whether it be the food or clothing bank, utility assistance, classes or more. And beyond "intake volunteer," she served on the board of directors, as treasurer of the corporation and as chair of the finance committee. Nominated in 2016 by Our Place, Sister Kate received the Community Champion Award from Molina Healthcare. They said of Sister Kate: "She treats everyone with empathy and care, sharing this caring and ministering spirit with all who come to Our Place, despite where they are from or how difficult their stories may be. Her work inspires us all. Because of her compassion, she gives people hope. Sister Kate is a true role model."
In everything she did, Sister Kate was known for her enthusiasm, energy, and dedication.
A Holy Names Sister for 68 years, Sister Kate is survived by her nieces and nephews and members of her religious community. Remembrances may be made to Our Place Ministries, 1509 W College Ave., Spokane, WA 99201 or Sisters of the Holy Names, PO Box 398, Marylhurst, OR 97036 or online at www.snjmusontario.org/donate.