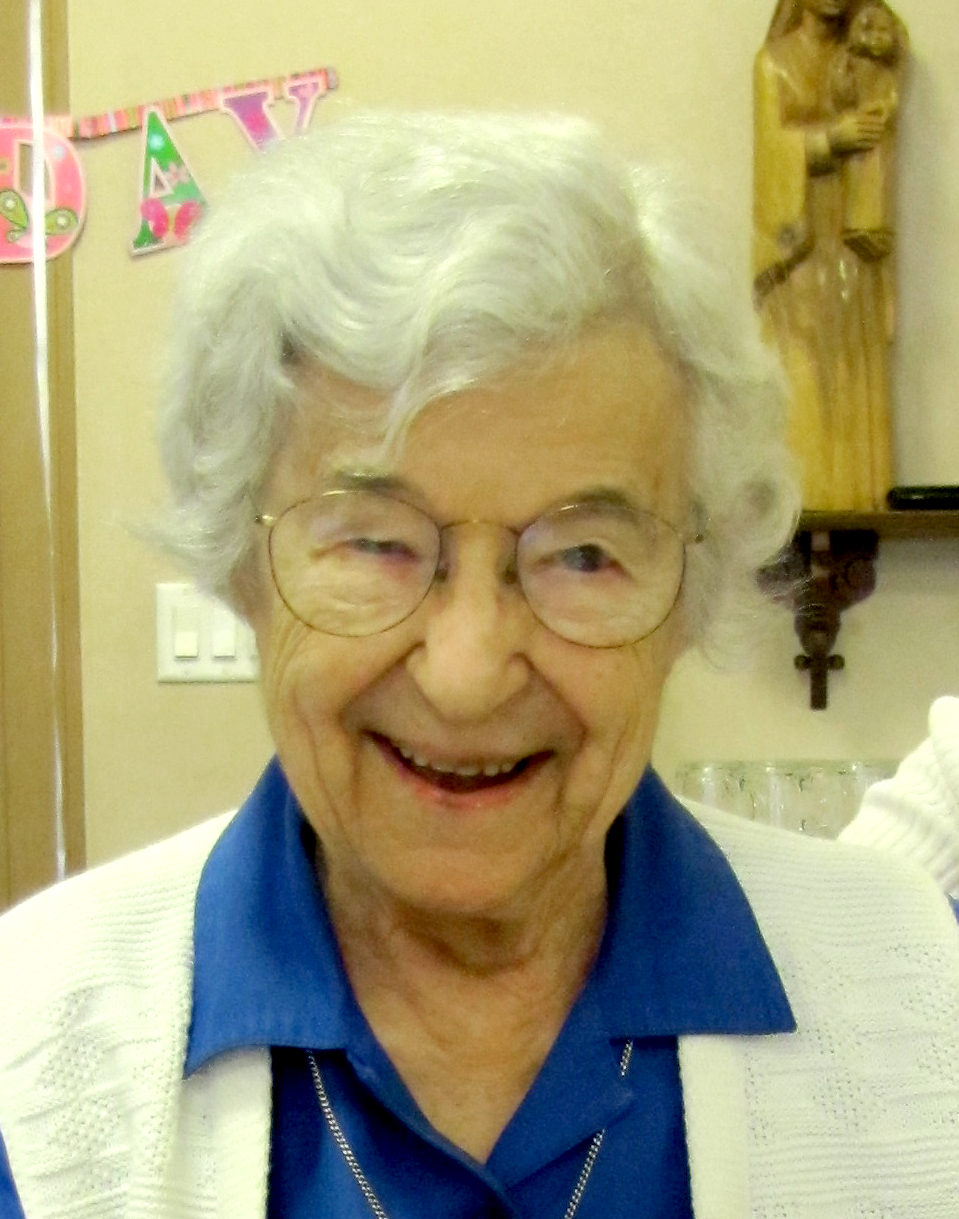 Sister Magdalen Basick, SNJM
(Sister Ruth Ann Mary)
January 25, 1916 – March 12, 2021
Sister Magdalen Basick, SNJM departed this life on March 12, 2021 at Mary's Woods at Marylhurst in Lake Oswego, Oregon.
Sister Magdalen celebrated 105 years of life and 85 years of religious profession.
A Mass of Resurrection was held in her memory.
Sister Magdalen Basick, SNJM
Sister Ruth Ann Mary
January 25, 1916 – March 12, 2021
Sister Magdalen Basick, SNJM, 105, died on March 12 at Mary's Woods at Marylhurst in Lake Oswego, Oregon. Funeral arrangements are pending and will be announced later.
Magdalen was the daughter of Matt and Anna Markovich Basick, who both came from Croatia in the early 1900s but met and married in Colorado. When Magdalen was 18 mos. old her father was killed in a railroad construction accident. Her mother married John Yurkovich when Magdalen was 8. Her siblings included sisters, Sister Mary Doloreen (Catherine), Marie, Sister Joseph Mary (Mary), Anne, Matilda (Plowman); brother, Daniel; and half-brother, Emil.
Magdalen grew up on a small farm near Helvetia, Oregon, in a home without electricity or running water.  During grade school, she attended a rural school with four grades in a room. Interested in furthering her children's education, it was through a Protestant teacher at Lincoln high school in Portland that her mother heard about St. Mary's Academy and the Holy Names Sisters. Arrangements were made for her older sister Catherine, the first of the Basick girls, to attend as a student boarder. 
When it was her turn to leave home as a 13 year old, Sister Magdalen recalled how hard it was, saying that "I cried every day until Thanksgiving." But as was her nature, she stuck with it and became a good and well-liked student, earning the position of Sodality Prefect, the highest student office after student body president.
Like her two older sisters, Magdalen entered the Sisters of the Holy Names after graduation and later received the religious name Sister Ruth Ann Mary. She taught elementary school for many years, becoming one of those famed eighth grade teachers loved and remembered by her students. She taught in Seattle, Spokane, Medford, Coos Bay, St. Paul, Eugene and Salem, and served as principal at Our Lady of the Lake School in Lake Oswego. 
Her last teaching assignment was at Holy Redeemer School in Portland. However, her connection with the parish did not end when she left the classroom as she stayed on as bookkeeper and office helper until she reached her 90s when she moved to Mary's Woods at Marylhurst to be with her sister, Sister Joseph Mary. 
Most recently, Sister Magdalen happily celebrated her 105th birthday and her 85th anniversary as a Sister of the Holy Names.
Sister Magdalen is remembered fondly by Sisters, family, students and friends. She was an excellent teacher with some of her students keeping a connection with her to this day, even from her very first class in Coos Bay, Oregon, many, many years ago. In her long years at Holy Redeemer in Portland, she had a large backyard garden where they had fresh vegetables, fruits, and flowers because of her. She was also a master at knitting and crocheting and created many delicate and intricate pieces. However, what is most universally remembered of Sister Magdalen is that she was someone always interested in your story, always available to help, and eminently practical. She was a woman with a zest for life, a deeply prayerful spirit, and a love of richness of God's creation.
Sister Magdalen is survived by her nieces and nephews and members of her religious community. Remembrances may be made to the Sisters of the Holy Names, P.O. Box 398, Marylhurst, OR 97036 or online at www.snjmusontario.org/donate.