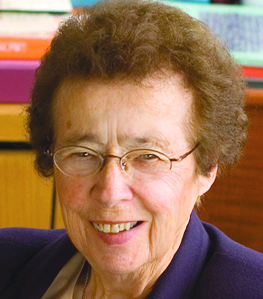 Sister Barbara Collier, SNJM
(Sister David Maureen)
November 8, 1926 – November 28, 2020
Sister Barbara Collier, SNJM departed this life on November 28, 2020 in at Mary's Woods at Marylhurst in Lake Oswego, Oregon.
Sister Barbara celebrated 94 years of life and 73 years of religious profession.
A Mass of Resurrection was held in her memory.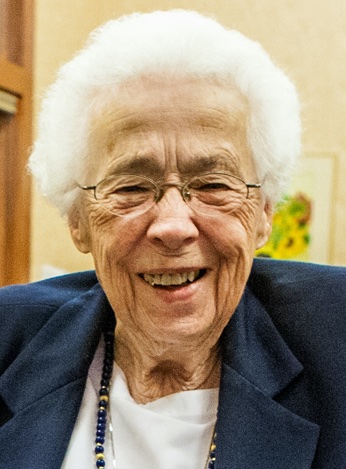 Sister Barbara Collier, SNJM
Sister David Maureen
November 8, 1926 – November 28, 2020
Sister Barbara Collier, SNJM, 94, died on Nov. 28 at Mary's Woods at Marylhurst in Lake Oswego, Ore. Due to COVID-19, a funeral Mass will be celebrated later.Sister Barbara Collier, SNJM, 94, died on Nov. 28 at Mary's Woods at Marylhurst in Lake Oswego, Ore. Due to COVID-19, a funeral Mass will be celebrated later.
The daughter of Albert (Don) and Helen Garvey Collier, Barbara grew up in Medford, Ore. Her father died when Barbara was very young, leaving her mother with six children between 5 and 13. She described her mother as an outstanding woman who gave her a great sense of independence. Barbara attended Holy Names schools in Medford throughout her grade and high school years.
During her first year at Marylhurst College, Barbara entered the Sisters of the Holy Names of Jesus and Mary at Marylhurst, Ore., receiving the religious name Sister David Maureen. "Nobody thought I would ever last," she said, "because I always liked being out, running around doing things." However, Sister Barbara was to remain true to her call as a Holy Names Sister for over 73 years.
In 1947, Sister Barbara fulfilled a life's ambition as she began her teaching career working with children in primary grades at Holy Names schools in Portland, Medford, Lake Oswego in Oregon and Spokane, Wash. Education was dear to her. She had a vision for education and went right toward that vision. As a principal at Holy Redeemer and Cathedral schools in Portland, Ore., and St. Rose in Longview, Wash., she was an exemplary administrator and an encouraging support to many beginning teachers and principals. During this time she completed a B.S. in Education at Holy Names College, Spokane, Wash., and a Master of Education with a major in administration at the University of Portland.
In 1975 Sister Barbara was tapped by the Oregon Province to be Coordinator of Ministry where her vision, enthusiasm, energy and sense of humor assisted the province in complex transitional times. She also brought her administrative skills to the Archdiocese of Portland in Oregon as Director of School Personnel from 1985-89. She served on the Archdiocesan Board of Education from 1967-1971 and on the School Board for the Diocese of Baker from 1976-1981. She was a long-time member of the Board of Trustees of Marylhurst College and served on several Oregon State Department of Education Committees.
After many years in formal education, Sister Barbara took courses in parish ministry and moved into ministry with a parish. For 8 years, she served as parish administrator for Visitation Parish, Tacoma, Wash.
When she returned to Oregon, she became Community Life Coordinator for the Holy Names Sisters in independent living at Mary's Woods at Marylhurst retirement community. Following her retirement, she moved to Mary's Woods where she was active in many facets of resident life and continued to work with the chapel staff facilitating liturgical services in the Sisters' Chapel. Outgoing, interested and full of ideas, Sister Barbara was a loved friend and mentor to family and friends throughout her life.
Sister Barbara is survived by her nieces and nephews, and members of her religious community. Remembrances may be made to the Sisters of the Holy Names, P.O. Box 398, Marylhurst, OR 97036 or online at www.snjmusontario.org/donate.