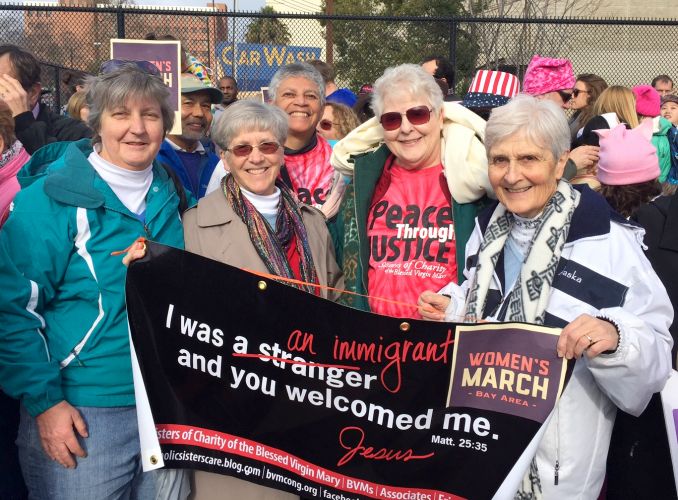 Sisters of the Holy Names poured out messages of love, welcome and inspiration at historic Women's March activities throughout the U.S. and beyond last weekend.
In Washington, DC, Sisters prayed with women religious from other communities at St. Peter's Church before heading out to march among family members, friends, alumnae of their schools and many new faces as part of the largest march in the nation. The group included Sisters Kathleen Keller, Jo'Ann De Quattro, Frankie Barber, Maureen Delaney, Barbara Spears, Carroll Ann Kemp, Ann Marean, Teresa Shields, Pat Corbey and Associate candidate Sheila Wooters. Also in the U.S. capital for the massive march were students and staff from Holy Names High School, founded as an SNJM institution in Oakland, CA in 1868.
The Sisters embraced the chance to find common ground and connect with countless people from different locations and cultural backgrounds.
"I was so grateful to be together with a large group of women I did not know, with a wide range of issues, and have the opportunity to share and respond with each other," said Sister Barbara Spears. "It wasn't just a feel-good experience."
Sister Kathleen Hilton marched with three generations of her family, two of whom who are SNJM school alumnae: her sisters Judith Brusseau and Mary Hilton, her niece Rebecca Brusseau and her grandniece Ariel. Flying to the capital from the West Coast was a unique experience, Sister Kathleen added. "Mostly, all flights were filled and the passengers were at least 60% women. The good spirits and easy collective presence that marked the Saturday march was evident on airplanes and in the airports."
In Oakland, CA, Sister Rosemary Delaney marched with a SNJM group that included Sisters Cynthia Canning, Rosemary Delaney, Diane Enos (with her sister from Hawaii), Carol Nicklas, Barbara Nixon, Dianne Nixon, Sophia Park, Mary Sullivan and Associate Rosemary Brennan.
"It was exhilarating to be in the midst of people of all ages and ethnicities – 100,000 strong by the final Oakland Police Department count – standing and walking together for the values we hold as Americans," said Sister Rosemary. "There were children in strollers and on their parents' shoulders, seniors and others in wheelchairs, families with multiple generations marching together, signs and placards, proclaiming respect, solidarity and determination. It was historic and thrilling!"
Elsewhere in the Bay Area, the SNJM community was represented in the march held in San Jose, CA by Sisters Kathryn Ondreyco, Rosemary Everett, Fran Kearney and Mary Becker as well as SNJM staff member Alicia Puppione and members of her family. Sister Mary Haupt marched with Sisters of Charity of the Blessed Virgin Mary Bette Gambonini, Elizabeth Avalos and Marilyn Wilson. SNJM Associate Ann Rice went to the event wearing a T-shirt with a Zen quotation "to promote peace, equality, inclusivity and compassion."
In Portland, OR, Sister Guadalupe Guajardo, a member of the U.S.-Ontario Province Leadership Team, marched with the group No Limits for Women, demonstrating solidarity in the face of discrimination and threats based on racial identity. "As women of the global majority, we held up signs that read 'What type of world would we be if racism and sexism did not decide us?'" she said. "It was one way to invite all of us to a bigger possibility."
Sister Barbara Raymond also marched in Portland alongside a large contingent from Adelante Mujeres, an SNJM-supported organization committed to education and human rights for immigrants.
Some others went to their local march individually or in small groups, like Associate Delphine Busch and Sisters Judith Mayer and Mary Ann Farley in Portland, Associate Ann Dibble in Yakima, WA, Associate Chris Hillman in Seattle, and Sisters Cathy Beckley and Peggy Kennedy in McMinnville, OR. A few people ran into each other by happenstance; others simply joined the nearest marchers.
"I could see people streaming over the bridges to join the march. It was uplifting to be with so many peaceful and committed people. I walked with neighbors. It is only the beginning of the work ahead," said Sister Linda Patrick, who marched in Portland. "I know others who could not walk, but were with us in spirit."
Elsewhere in Oregon, Sister Arnadene Bean and her niece marched in the coastal community of Astoria, with thousands of people from "all races, sexual orientation, ages, abilities… People were very happy and helpful to each other and there was delightful creativity in clothing and signs. A loving spirit engulfed the whole of the experience."
Meanwhile, Sister Mary Pat Naumes and a friend marched alongside about 8,000 Southern Oregonians in Ashland, OR. To the north, Sister Anne Bosserman, Associate Yvonne Lopez-Morton and Associate Sally Duffy carried a banner in the Spokane, WA march. In Seattle, WA, Holy Names Academy faculty and students held a sign-making party before heading out to join an estimated 175,000 marchers, reported Associate Julie Tilghman, HNA Campus Minister.
Sister Susan Maloney noted that her late mother, Vera Gaeta Maloney, who graduated from Oakland's Holy Names High School in 1936 and sent all five of her daughters there, was an inspiration to her during the march. In fact, the five Maloney sisters honored the spirit of women's education and of SNJM foundress Blessed Mother Marie Rose Durocher as all took part in the march in different parts of the world. Sister Susan and Nancy Maloney marched in Oakland, CA, Kathy Maloney in Las Vegas, NV, Mary Anne Maloney-West in San Francisco, CA and Joanne Maloney-Chiarelli in Bologna, Italy.
In Florida, Holy Names Sisters and Associates teamed up with faculty and friends from the Academy of the Holy Names, Tampa to participate in the march. Among them were Sister Mariellen Blaser, Associate Pat Torres, Associate candidate Sharon West, retired AHN Spanish teacher Alice Newell, Associate Cecilia Vargas, Associate Maureen Raimo, Sister of the Immaculate Heart of Mary Lisa Perkowski, who heads the AHN art department, Sister Dolores Wehle and Jennifer Perrella, a graduate whose mother is Associate Judy Perrella.
Sister Kathleen Callaway, President of Ramona Convent Secondary School in Southern California, reached out to the schools alumnae on social media, asking those on Facebook where they had marched. About two dozen responded, with results ranging from both coasts of the U.S. to Barcelona, Spain.
Sister Donna Hortsch, in the midst of recovering from the flu and contending with wintery weather, found a way to participate and share the spirit of the march with others without even going outdoors. She put up a sign at the SNJM-founded retirement center of Mary's Woods south of Portland. "I found that many were interested but hesitant to go into town or march outside," she said. "We had about 30 people, including many men. We met at end of the main hall in the Sandpiper room and marched to fireplace in new resident lounge… We used women's great power of silence." Some carried signs shared by Sister Jo'Ann De Quattro that Sister Donna downloaded and printed; others made their own.
Many Sisters and Associates found other ways to support the march, either by donating funds to help those who attended or praying for them. During the day of women's marches throughout the world, both small and large acts of solidarity brought the SNJM community together, looking to the future with faith and conviction.
Women's March San Jose, CA
Barbara Spears, SNJM reads before the March in Washington, DC.
Gathering at St. Peter's Church before the March, Washington DC
Women's March in Washington, DC
Women's March in Washington, DC
Women's March in Washington, DC
Women's March in Washington DC
Big Screen view at the Women's March in Washington, DC
Students at the Women's March in Washington, DC
HNHS Students at the Women's March in Washington, DC
HNHS Students at the Women's March in Washington, DC
Teresa Shields, SNJM at the Women's March, Washington, DC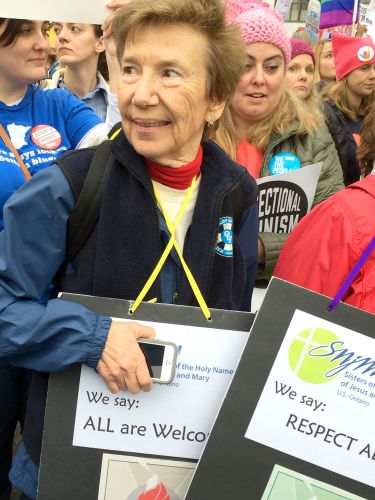 Maureen Delaney, SNJM at the Women's March, Washington, DC
Maureen Delaney, SNJM and Jo'Ann De Quattro, SNJM at the Women's March in Washington, DC
Three generations of Hiltons March in Washington, DC
Women's March San Jose, CA
Women's March in McMinnville, OR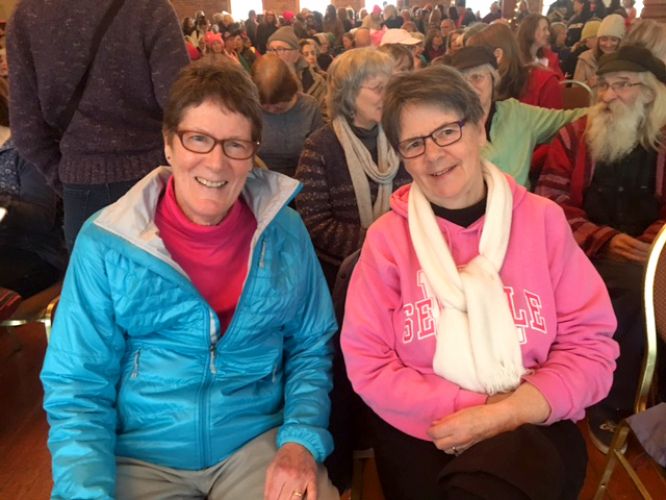 Mary Ann Farley, SNJM at the Women's March in Portland, OR
A Favorite Sign at the Women's March in Portland, OR
Frodo Okulam, Associate at the Women's March in Portland, OR
Adelante Mujeres marchers in Portland, OR
Adelante Mujeres marchers in Portland, OR
Adelante Mujeres marchers in Portland, OR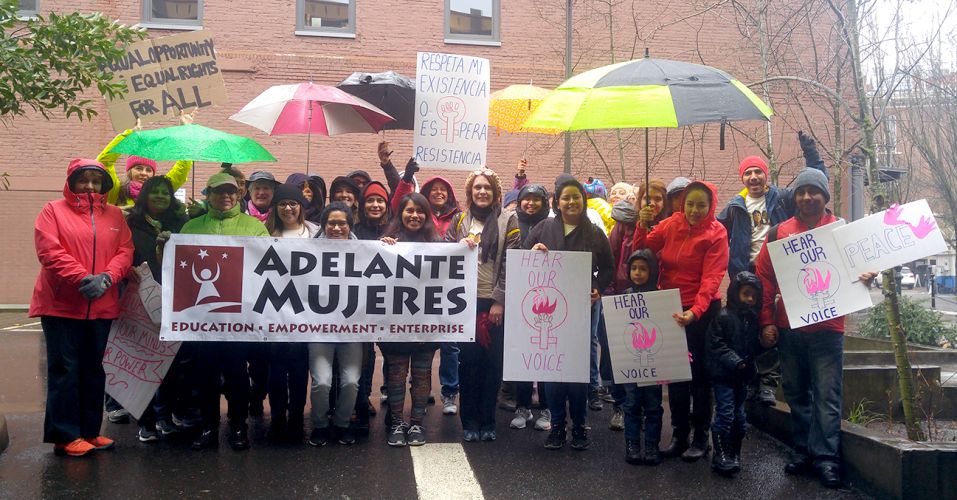 Holy Redeemer teacher marches in Portland, OR
HNA Students Preparing for the Women's March in Seattle
HNA Students Preparing for the Women's March in Seattle
Women's March in Spokane, WA
Women's March in Spokane, WA
Indigenous People Represented in Spokane March
Marchers in Spokane, WA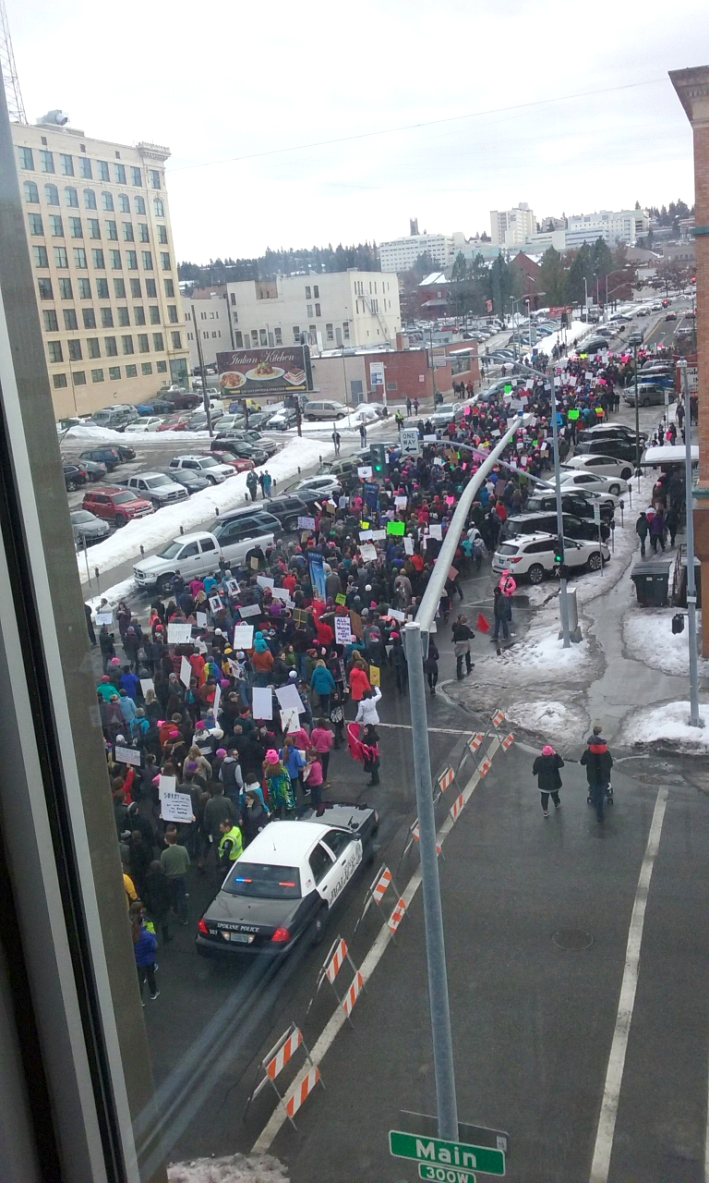 Women's March in Tampa, FL
Women's March at Mary's Woods, OR
Women's March at Mary's Woods, OR
Women's March at Mary's Woods, OR
HNHS Maloney "girls" March in Bologna, Italy
HNHS Maloney "girls" in Las Vegas
HNHS Maloney "girls" in San Francisco
HNHS Maloney "girls" march in Oakland, CA
Women's March in Oakland, CA
Women's March in Oakland, CA