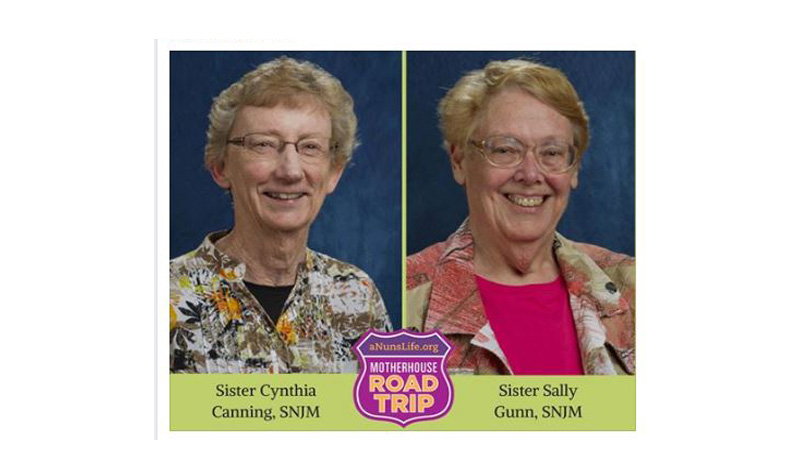 Two Sisters of the Holy Names will be interviewed online on Friday, Oct. 21 when A Nun's Life Ministry brings its traveling podcast to Campbell, CA. You can join the hosts, Sisters Julie Vieira and Maxine Kollasch, for the live webcast and ask questions of the guest Sisters – Cynthia Canning, SNJM and Sally Gunn, SNJM. During the webcast, Martha Rolley, SNJM, will help take comments and questions from the online community in the chat room and bring them into the on-air conversation.Sister Cynthia Canning has ministered in education and SNJM leadership. She began as an elementary school teacher, juggling two grades in the same classroom. She later served as a high school teacher and principal. She was then called to SNJM leadership, serving six years each in the roles of Director of Ministry and Provincial. In 1994, Sister Cynthia along with SNJM Sisters Rosemary Delaney and Margaret Kennedy founded Next Step Learning Center. The community-based nonprofit continues to assist Oakland-area youth and adults who are seeking to earn their high school equivalency, transition to college, and build better lives.

Sister Sally Gunn has served in a variety of ministries. A much-loved junior high classroom teacher, she taught in southern California schools for over 20 years. She served for more than a decade at Our Lady of Grace Parish in Encino, where she worked with the Rite of Catholic Initiation of Adults (RCIA) process and other aspects of parish life. Sister Sally has served in provincial leadership and other roles within the SNJM congregation. She was a key member of the planning team that guided the merging of five provinces of SNJM into the present U.S.-Ontario Province.

A Nun's Life Ministry was founded by Sisters Julie and Maxine in 2006. This online faith community and nonprofit ministry reaches out with a pastoral presence to thousands of people worldwide each day. The website at aNunsLife.org is a place where you can talk with Catholic sisters and nuns and lots of other people on topics such as spirituality, prayer, community, ministry, and more.

How to tune in 
New to podcasts and chat rooms? Find all the details here for how to tune in to the podcast and use the chatroom.

How to hear a recording of the podcast
An audio recording of the podcast will be available in the podcast player below a few days after the livestream. You can also have the podcast sent to you as soon as it's posted by subscribing on iTunes (click on the "iTunes Subscribe" icon on any podcast page) or getting the A Nun's Life app. Click here for full details about recorded podcasts.