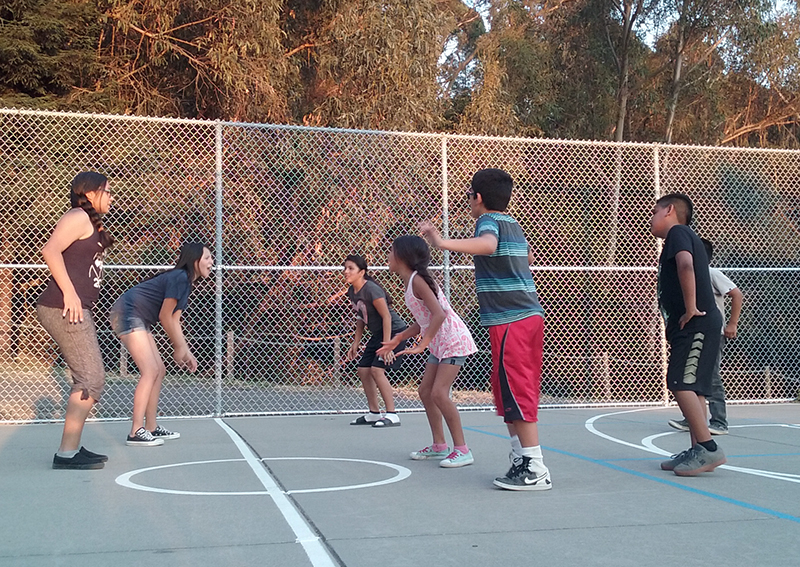 Get On The Bus, a program of the Center for Restorative Justice Works, had its early beginnings 17 years ago through the support of Leadership Conference of Women Religious (LCWR) member communities, including the Sisters of the Holy Names.
With its newest program, two five-day camps at the federal women's prison in Dublin, CA, CRJW asked the Sisters to help with lodging eight children, ages 9 to 14, and their counselors for one of the camps, held July 24 -29.
With the encouragement of Jo'Ann De Quattro, SNJM and Carol Sellman, SNJM, and thanks to Dr. Bill Hynes, Associate, former Holy Names University President, HNU provided overnight accommodations and afternoon recreational facilities following the 4-5 hours the children spent inside the prison with their mothers.
Named Camp Suzanne in honor of CRJW's founder, Suzanne Jabro, CSJ, the program in late July reunited five mothers with their children, and offered them a unique opportunity, under the guidance of Loyola Marymount University art therapists, to be moms – to strengthen family bonds and to encourage their children's dreams for the future. Of the five mothers, three will be deported when they complete their sentences.
As one mother said, "I am thankful for being able to spend time with my son, being able to give him kisses and hugs, being able to tell him in person how much I miss him and love him." One of the children expressed how much it meant to her to be able to see her mom, "and seeing her smile… just to be able to hold her."
Camp Coordinator Naomi Cornejo, SSS, expressed her deep gratitude to Dr. Hynes, Sister Carol and HNU Assistant Vice President for Facilities and Events Luis Guerra for helping to make this camp a reality for these families.
Written by Jane Argento, CRJW Board Chair
To visit the website for Get On The Bus, please click here.